The following types of boards are currently available: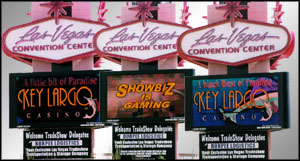 • FULL COLOR OUTDOOR LED - This is the hottest thing in display signs for the last 2 years. Ever since the outdoor bright blue LED came out everyone has been jumping on this bandwagon. If you're looking for a 30 or 40 foot outdoor TV then the LED's are the way to go. The Datasign would not be the right sign for you. The Datasign does not do graphics or full color, only letters. Full color LED's are priced by how small their pixels are made. The smaller the pixels the better the better the image. Price range starts at $1,800 sq/ft for 2-inch pixels, to well over $6,000 sq/ft, plus permits and installation. If you're looking for outdoor video signs, call us about Ad Arts Full Color LED. We can get you the best deal.

• ONE COLOR & TRI COLOR LED - This is the older LED type board, It is difficult to read during the daytime, but offers lower cost than the full color and has a larger pixel spacing than the full color. The large spacing limits it to low-level graphics and grainy letters. Even with its low cost compared to full color, it is still priced between $850 sq/ft and $2,800 sq/ft. This is very expensive being roughly four times as expensive as a Datasign.

• FLIP-A-MATIC - These signs being twice as expensive as Datasign also have a poor track record for reliability due to high maintenance costs and a tendency to freeze up in the winter time and on very hot days. They also can only be front-lit, not backlit. Front-lit price based on pixel size is between $480 sq/ft and $1,600 sq/ft.

• Light Bulb-based Reader Board - This is the oldest type of electronic reader board. These boards are also twice as expensive as Datasign and are fairly high maintenance, as bulbs are always burning out and must be replaced on a consistent basis. Readability is still not as good as Datasign and they use much more power to light their bulbs. There are many different types of these displays; some requiring special types of light bulbs like the wedge base type light bulb for the smaller pixels. Their prices are ranged between $550 sq/ft and $2,200 sq/ft.

• The Datasign - This is extremely legible. It is designed to be a reader board only, meaning most local laws in the U.S. will allow you to use the Datasign with only a simple sign permit and without a costly sign variance. It is backlit so as to be readable at night and the high contrast graphics are easily read during the daytime. The Datasign is relatively inexpensive for changing large movie theater marquees, which are currently changed manually. Compared to other computer changeable display boards the Datasign costing only $389 per module for the 12" model and only $586 per module for the larger 24" model (this would be less than $300 sq/ft) is half to a quarter the cost of any other programmable sign in the world.

• Manual - This is the least expensive changeable sign option. The manual sign is however costly in terms of labor and liability. Storage and maintenance of letters are necessary, missing letters and broken letters result in "strange" messages. Vandals can tamper with messages and an inventory of letters is required. The cost of this type of sign depends on your local sign shop and the type of materials he uses. This could range from $70 sq/ft up to $400 sq/ft.